4 ALPHACHOCKS MAX + soft-case
Regular price

CHF 6,280.00
Sale price
Pickup currently unavailable
Share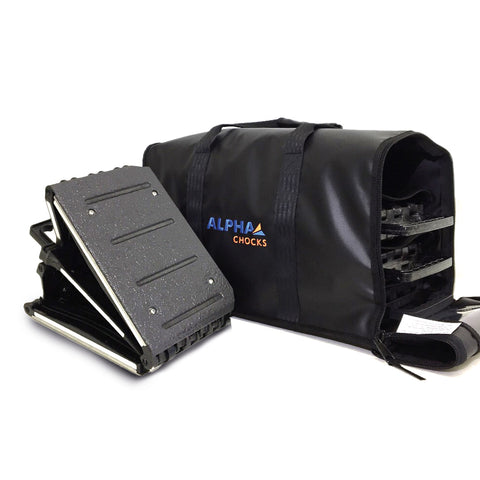 CHOCK TECHNOLOGY NEVER SEEN BEFORE
You ease your workload with chocks that are 10 t0 20 times lighter
This ALPHACHOCKS MAX set is concentrated in just 14kg (30.8lbs) and designed specifically for saving precious time, effort and space for your ground handling operations.
Weight:               only 14kg (30.8lbs)
MTOW:               350t (780,000lbs)
Wheels size:     125cm (49.2in)
Mechanism:      collapsible technique
DIMENSIONS:
Length:              53cm (20.8in)
Height:               29cm (11.4in)
Width:                25cm (9.8in)
The goal for this chock was to be incomparably light weighted yet incredibly robust. Using highly technological advanced computer softwares and first-class Swiss Engineering we achieved our goal.  With its unique combination of carbon fiber composite materials and production technique called aCC-Process (Automated Compression Composite Process), ALPHACHOCKS MAX will perform better being the lightest yet strongest chock of its kind on the market.